There is no truth in the idea that the expression "May you live in interesting times" is a Chinese curse, but it does sound like a piece of wisdom that Confucius should have said. These current times have certainly been "interesting", and the idea of them being a "curse" is definitely not far-fetched. It was looking as though we were getting on top of the Covid-19 pandemic, but the Delta variant gave us a painful reminder of how adaptable viruses are and how adaptable we need to be.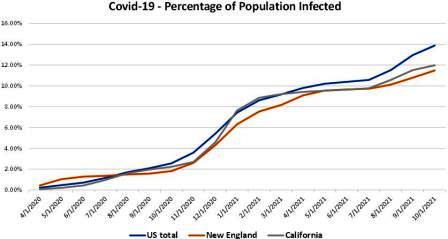 The above chart shows the numbers of people infected by all variants of SARS-CoV-2 at monthly intervals, showing the figures for the US as a whole, along with numbers specifically for the California and New England regions. We now have to see what new variants might emerge and what effects the return to a somewhat more normal lifestyle and the oncoming of winter will have on infection numbers.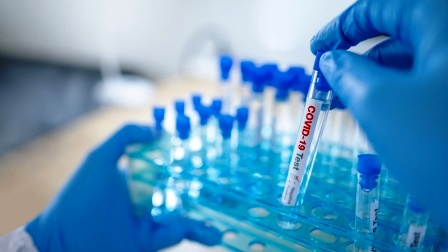 However, the virus hasn't been allowed to have its own way. The biotech and healthcare sectors rose to the challenge faster than almost anyone expected, assisted by research coming out of the nation's universities. Also, the changes in lifestyle forced on us by the pandemic had a temporary benefit related to the even more serious issue facing us, namely climate change. As things move back towards what we used to call "normal" and travel builds up again, carbon emissions are back on the rise. The university researchers are already working on methods for helping us negotiate these matters and healthcare issues are likely to remain high on the priority list as extreme weather events and habitat loss drives humans and wildlife closer together allowing more crossover infections to occur.
We have been seeing inflation at elevated levels, with recent monthly increases in construction material prices looking more like what we had been seeing annually in previous years. These increases have been driven by supply chain issues that, once again, can be traced back to effects of the pandemic. Shortages existed in the construction labor force before the pandemic hit and that situation has only worsened. All of these effects have been pushing construction prices up, increasing uncertainty, and slowing new investment. The level of uncertainty has been raised by the fact that the material cost changes mentioned earlier have included some dramatic spikes, making budgeting for projects more difficult.
Stagflation became the troubling situation in the 1970s as inflation remained high even though the economy was faltering, and central banks had to push interest rates to record highs to bring inflation back under control. The recent inflation rates and the economic recovery being slowed by the rise of the Delta variant has some economists forecasting a return of stagflation. Hopefully, that prediction will prove to be premature, and as vaccinations continue and infection levels drop again, we will see the supply chain issues melting away and the economy rebounding. Of course, with issues such as Evergrande and the increasing cost of energy, we have seen that Covid is not the only thing that can affect the markets.
There had been talk of people working from home (or telecommuting) for years, but nothing much happened until Covid suddenly forced almost all of us to do it. It seems that that is one change in work that will last in some hybrid form as offices reopen. But there are other changes to work that have received a boost from the pandemic conditions as well, and automation is one of those. That will make some jobs vanish while creating others, but it is showing that the idea of a lifetime job is becoming less likely for most people entering the workforce. Lifetime learning will no longer be just a good idea but become essential to keep your job skills up to date and relevant.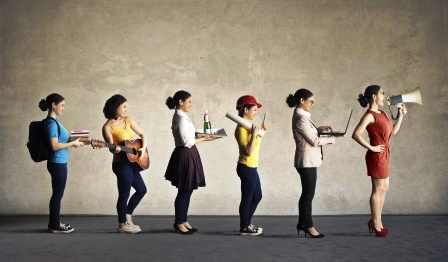 Recently (speaking from mid-September) we have been seeing some slowdown in the number of new Covid-19 cases and indications of a leveling off of inflation and, while that doesn't constitute a trend, it is encouraging. There seems to be little doubt that we will be living through changing, challenging, and yes "interesting" times for many years, but it depends on your viewpoint as to whether you want to see that as a curse or as an opportunity.
Geoff Canham, Editor, TBD San Francisco