Studies have shown that over 50% of the effort expended on a construction project does not contribute to the value that the building owner is looking for. About 10% of materials are estimated to be wasted, but waste extends far beyond that, including rework regarding defects, time spent by workers waiting to be able to do their work, and production of reports that are never read or acted on, amongst others. It has also been shown that over 50% of scheduled targets are not met. Lean Construction aims to correct these problems.
No one is going to argue with the ideas that waste is bad and that schedules should be realistic and achievable. Isn't that what project management techniques are working towards anyway? So what is special about Lean Construction and where did it come from? Answering the last part first: Lean Construction emerged out of the attempt to apply lean manufacturing techniques, developed by Toyota after WWII, to the construction industry.
One major difference between construction and manufacturing is that manufacturing generally involves producing multiple copies of the same thing, whereas a construction project is normally a prototype that will likely not be repeated exactly the same anywhere else. BIM is a technology that gets around the prototype aspect to some extent, because the model can become a virtual prototype of the proposed building, testing the sequence of construction, etc. Construction can also get closer to traditional manufacturing by utilizing modularization/prefabrication technology. Neither BIM nor prefabrication are specifically related to Lean Construction, but they can be a part of it.
Another difference is that factories manufacture products for a mass market, whereas a construction project is for a specific owner. Getting the owner's and end-users' involvement is therefore essential, not only establishing initially what is required, but also why it is required. That way, what the owner sees as value from the project is clear from day one to the design team. What constitutes value to all participants is important, because maximizing value and minimizing waste are primary goals of Lean Construction. Naturally, the owner's concept of value takes precedence because they are the customer. The owner's involvement throughout the process is also essential, to ensure that problems can be resolved expeditiously.
IPD (Integrated Project Delivery) is another technique that works well with Lean Construction. Getting input at an early stage from the main contractor and subcontractors can lead to a more constructible project with fewer RFIs and change orders, meaning less rework and therefore reducing waste. The main contractor and subcontractors are also the ones with the best knowledge of how long activities are going to take, so their input should lead to better initial scheduling and setting of milestone dates.
From what we have discussed so far, there might not seem to be much that is new about Lean Construction, and it is true that many techniques and technologies can be incorporated into it. One technique that has been pioneered by the Lean Construction Institute (in fact they hold the Copyright on its idea and its materials, and the Trademark on the name) is the Last Planner System.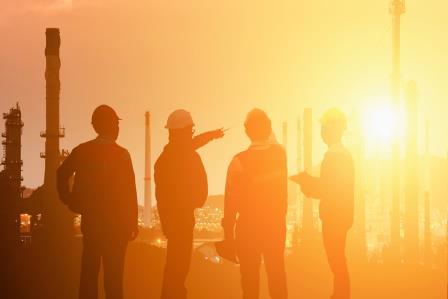 The Last Planner System includes the review of activities that are coming up over the next few weeks, and getting reliable input on the activity durations. Alongside each activity is also listed the make-ready work that needs to be completed before that activity can commence. The contractor and subcontractors are involved in these scheduling meetings, and with short daily work huddles, to ensure things are keeping on track and they commit to the target dates. Updated project information is prominently displayed on site, including information on what percentage of target dates are met and what are not, in order to encourage better adherence to the schedule. Everyone needs to know what is going on, and transparency and collaboration are encouraged. That includes identifying the reasons why tasks may be ending up late, which then helps show how everyone's work affects everyone else.
The encouragement to constantly do better is also a major feature of Lean Construction. Continuous Improvement is the aim, so learning from things that have gone wrong and from those that went right is important, and then passing that knowledge on for future projects. The goal of Continuous Improvement also means that everything that may contribute towards Lean Construction does not have to be implemented in one go. To do so might be considered disruptive. Instead, implementing one or more aspects of Lean Construction that are expected to accrue benefits can be a good way to introduce Lean Construction, and then building on that start.
Traditionally, projects have been bid on the basis of lowest price, but cost is less of a consideration with Lean Construction. That said, Lean Construction does produce savings, thanks to the reduction in wasteful activities and better coordination. Cost reductions of up to 30% have been reported from the use of Lean Construction practices.