The stimulus package passed by Congress included $8 billion for high speed rail, and the California High Speed Rail Project is likely to be a major recipient of these funds since it probably the furthest along in design compared to the other (mainly East Coast) planned high-speed rail projects. The California system also got $9 billion funding from Proposition 1A, approved by voters in November 2008, which also provided close to another billion for improvements to existing rail systems that will interface with high-speed rail.
The first phase of the system, running from Los Angeles (Anaheim) to San Francisco, is estimated at around $34 billion. That total includes construction and system costs, as well as soft costs such as design fees. The first phase also includes the only portion of the system that will use track shared with other trains, specifically the somewhat contentious Bay Area section that will use the Caltain Corridor that should ultimately end at the new Transbay Terminal. The total cost for the full system is estimated at around $40 billion.
The full high-speed system is planned to be over 800 miles, running from San Diego, through Los Angeles, following a route almost parallel to the I-5 as far as Sacramento, with the San Francisco section branching off between Fresno and Merced and passing through San Jose en-route.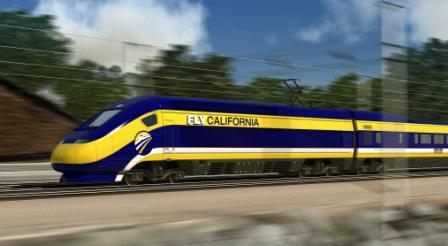 Image by NC3D
The system will use electric trains with state-of-the-art safety features, and with the well tested steel wheel on steel track that Stephenson's Rocket used. But these trains are designed for speeds up to 250 mph, although the operating speed is planned to be 220 mph, making the 420 mile trip from San Francisco to Los Angeles in about 2 hrs 40 min, for a one-way fare of about $55.
The 15% Design stage, which looked at alternates, leading to a single approved alignment, has now been completed.
The 30% preliminary engineering design (to support procurement of final design and construction services) should be completed by 2013. This stage will identify all elements of the project, provide a more detailed estimate and schedule, and carry out constructability and bid-ability reviews.
The first phase of the system (Anaheim to San Francisco) is scheduled to start revenue service in 2020, 190 years after the Rocket started revenue service on the Liverpool & Manchester Railway.
Prior to that, we can expect the work on the high-speed rail system, and the associated development work that inevitably occurs in the vicinity of stations on such a major system, will provide its own stimulus package for the California construction industry.