Construction Scheduling 101
Michelle Tobias
This article is Part I of a series of articles that will explore construction scheduling in all its aspects, including programs and software, schedule development and analysis. This issue will attempt to provide a general overview of what construction scheduling software has to offer to its users and some key ingredients for developing a successful construction schedule.
Construction scheduling software comes in all sizes from single-project scheduling tools to global systems that monitor hundreds of projects. It is a collection of programs, processes and information used to manage a construction project in all its phases. By implementing construction scheduling software, users are able to standardize processes, gain insight into existing and potential problems and increase the manageability of time and budget.
Before delving further into the specifics of scheduling software, let us first understand how a construction schedule program works and how it relates to Project Management. Project management is the discipline of planning, organizing and managing resources to bring about the successful completion of a project. The success or failure of a project is largely measured by two criteria:
the project will be completed within budget
the project will be completed on time or the least amount of time.
A project management life cycle is comprised of phases that have to be carefully and methodically implemented and not left to chance.
Construction scheduling software is the vehicle to successfully manage a project. When proper information is entered into the scheduling software, the processes and programs within the software perform essential activities which include, but are not limited to:
- monitoring and tracking of activities throughout the life of the project
- early identification of potential problems, and resolving these problems expeditiously, resulting in the mitigation of potential delays that could affect project schedule.
- early warnings of poor performance, and taking steps to correct it.
- linking costs with progress and performance.
- providing information required to manage payments to contractors based on their actual performance.
Now let us talk about the key ingredients in developing a construction schedule. Below is a list of information required for almost all construction scheduling software to perform effectively and produce output to successfully track and monitor a project.
- Define the individual activities or tasks you must perform
- Identify the relationship and sequential logic between each activity (such as the sequence of tasks - what happens first, second, last or simultaneously)
- Document the resources you need, including money, personnel, equipment, material and other special services
- Determine the time (or duration) of each activity
A typical schedule used in the Construction Industry is a Gantt or BAR chart schedule (see below). It provides a graphical overview of the project and each task, its duration, relationship between other tasks and the start and finish dates.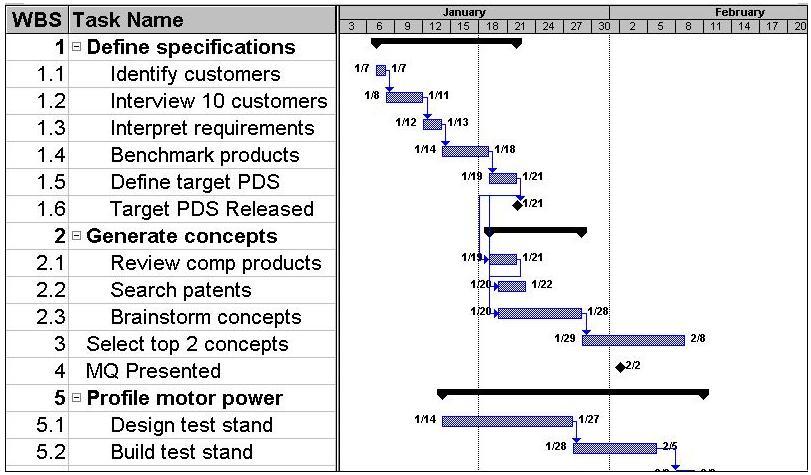 The first attempt at creating the schedule usually becomes the initial baseline schedule, which the contractor, engineer, or architect uses to make adjustments while scope of work is clarified, to ultimately become accepted as the approved baseline schedule. Once the baseline schedule is approved, it will be used as the measuring tool for all the updated schedules during the construction period, unless a revised baseline schedule is approved to reflect major changes in the schedule.
A properly developed schedule provides an effective tool to successfully manage a project. With computer software creating schedules, managing projects has never been easier!
In the next issue, we will discuss how to update and monitor a construction schedule and expand on its versatility as an effective project management tool.