Achieving Net Zero on a building does, of course, mean an integrated process involving all sections of the building. Reducing the required load by the use of LED lighting and automated lighting control, along with innovative HVAC systems, good insulation and other methods, is always a first step in achieving the goal. Those kinds of techniques can reduce energy requirements by up to about 60% of that used by a traditional building. The next step is providing the energy needed to meet even this reduced load, and as the buildings become taller, this becomes more of a problem.
Photovoltaic (PV) panels are the normal method of providing power, and the roof is the obvious location for them. However, as buildings get taller, the proportion of roof space gets markedly smaller, and that space may be needed for HVAC and other equipment. The vertical enclosure (exterior walls) of the building provides an additional location for PVs, and for other methods of achieving the Net Zero goal in a cost effective manner. PV panels are available that look attractive enough to be used as actual wall panels, and the performance of wall mounted PV can be around 72% of that of rooftop-mounted ones. You can also get translucent glass that incorporates PV elements. Such glass can be incorporated in windows, storefront or curtain walling, and the efficiency of these systems continues to rise, and the cost premium is coming down.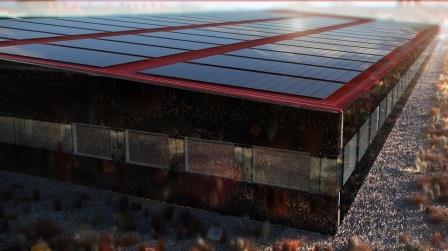 One way of reducing the energy requirements of a building is to reduce the heat gain from glazing, and this can be achieved while still maintaining the same amount of glazing. Sun shading is one method, and another is the use of EC (electrochromic) glass, an electrically tintable smart glass that can change the amount of light transmittance to meet differing requirements as the Sun progresses across the sky or weather conditions change.
The exterior wall can also incorporate solar water heating. Sun shading structures and areas of spandrel glazing in a curtain wall provide suitable zones for this source of energy production. Another interesting method of providing heating is by use of a Trombe wall. This type of wall has a glass outer layer and an inner layer than can absorb the heat collected in the air gap between them, which heats up like a greenhouse. That inner wall can then radiate heat into the building even after the sun has stopped beaming down on the wall. Vents at the top and bottom of the wall can also regulate the flow of the heated air into the building as needed.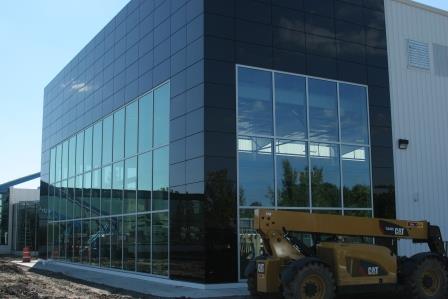 There are even people developing what they call spray-on solar paint, so the future options for using the exterior closure of a building to generate energy could be endless.
Thanks to Nick Bagatelos with Bagatelos Architectural Glass Systems for information provided related to this article, including the images