Advances in healthcare and improved lifestyle quality have led to people living longer, and consequently we now have an aging population. Sadly, the longer lifespan does not necessarily mean that everyone remains in a position to be fully independent, and so the need for nursing home facilities has been growing.
Nursing Homes share a number of similarities with hotels and with medical facilities, and indeed motels, hospitals and similar structures have been converted for use as nursing homes. However, while hotels and hospitals house people for a relatively short period of time, residents of nursing homes are often going to be there for the rest of their lives, so the 'home' aspect becomes much more important. And, since it is common for the residents to have ambulatory problems, many of them will seldom leave the facility, so the building needs to be as welcoming and accommodating as possible.
Not all residents of a nursing home are necessarily going to be there for life. Some may be there while recovering from an injury or other ailment, but again the atmosphere of the building should be one that aids the recuperation process.
The traditional image of a nursing home is of an institutional-type building, but nowadays the layout is more likely to resemble independent apartments where residents can look after themselves as far as they can, with communal areas for dining and recreation. This allows the residents to have a feeling of independence, while at the same time being looked after, as needed, by the staff.
Bringing natural light into the building has the advantage of reducing the life-cycle costs, plus, more importantly, it improves the environment for the residents. Adequate daylight has been linked to reduced risk of depression (as with SAD – seasonal affective disorder), improvements in health (through vitamin D production), better waking/sleeping cycles thanks to the visual clues to the time of day, and other benefits.
Since a large proportion of residents are likely to require the use of wheelchairs and walkers, circulation space should be wider than normal. This, along with the use of natural lighting where possible, also helps decrease the institutional feel. Having corridors that do not dead-end will allow ambulatory residents to get more exercise, and if these walking routes can be combined with landscaped areas outdoors, that can be even more therapeutic. Related to exercise, therapy facilities will also often be available within the building.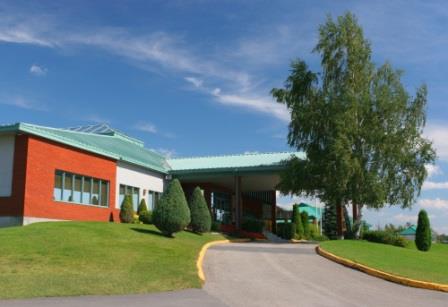 Clear signage, to help prevent residents becoming disoriented, is essential, and other visual clues, such as different painting schemes in different areas, or the use of artwork and interior landscaping can help differentiate commonly used areas. Back-of-house areas, where residents are not meant to go, should have adequate access control and either not have identifying signage or have different signage from the main areas.
Ideally, such facilities should be at one level, but if two or more levels are required, then the facilities for residents should be available at all levels.
Nursing homes are often classified under three main headings. Firstly there is the Intermediate Care Facility (ICF) or residential care home, catering for elderly, disabled or infirm residents who do not require an intensive level of nursing. Secondly there is the Assisted Living Facility (ALF) for people who need more assistance with regularly daily activities. And thirdly there is the Skilled Nursing Facility (SNF) where more intensive nursing and therapy is required.
HUD (Department of Housing and Urban Development) is one source of funding for nursing home facilities (covering up to 85%, depending on facility type and property owner type), but one condition of a HUD loan is that labor rates must at least comply with Davis Bacon wage rates.