West's Grand Central
Geoff Canham
Wednesday, August 11, 2010, marked the official ground-breaking for what has been dubbed the Grand Central Station of the West. As a light drizzle fell, the Transbay Transit Center project officially started, with the temporary terminal already in operation, utility relocation work in the surrounding streets progressing nicely, and demolition work on the bus ramps and terminal ready to start a week later. It was almost hard to believe this project (that this writer had been connected with for over a decade) was finally actually under way.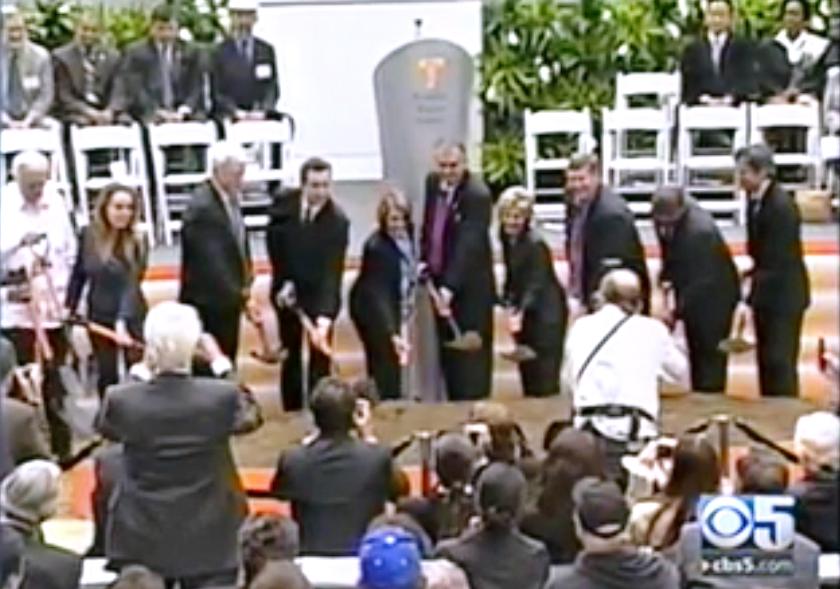 Back in the 1990s, the Transbay Terminal project was initially seen more as one of seismic upgrade and expansion, and the idea of bringing Caltrain to it, or at least closer to it, was being considered again (this project has been talked about for a long time). However, it did not progress at that time, but the boom years (remember those?) demonstrated clearly the need for improvement in the transit systems, and the feasibility of the Transbay Terminal project was again under study. There were budget restraints, but there was a marked lack of restraint in the bidding market at that time, so it was decided to break the terminal replacement project into two, with the above grade bus terminal to be built first, and the train station being constructed later by tunneling under the bus station.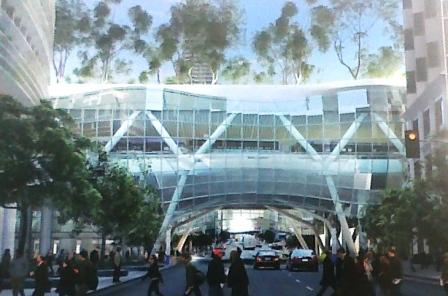 Next, a design competition was held, and the innovative design submitted by the Pelli Clarke Pelli team was selected. The project always had LEED goals, but this design not only met those, but had what must surely be the ultimate in green roofs - an actual city park to top-off the building!
Then the recession hit, with the result that construction prices reduced and also the California High Speed Rail project received funding through ARRA. And with the rail station portion of the Transbay Transit Center project being the terminal for the northern end of the high speed rail system, it became viable to recombine the two phases of the project.
So, on a day when the words of Samuel Clemens (otherwise known as Mark Twain) about 'a summer in San Francisco' rang very true, not only did the long-awaited Transbay Terminal replacement project get under way, but the first step in the California High Speed Rail project also began.
Like too many projects these days, funding is still an issue for the rail project, even for the DTX (DownTown Extension, that will bring Caltrain and high speed rail from the existing Fourth and King Station to the Transbay Transit Center), but the project is picking up momentum and should be able to overcome these final obstacles, bringing rapid, non-polluting transit for most of the length of the state.