Climbing a Greecey Slope
Geoff Canham, Editor
Two steps forward, one step back. Or, at the time of writing (mid May), it seems like one step forward, one precipitous slide back. The situation in Greece (and the other so-called PIIGS in Europe) has certainly played a part in the backwards slip in the Stock Market, supposedly as traders worry about contagion from a possible default by Greece on its loan repayments. But perhaps it is more the fact that the situation in Greece is making it clear that while we have entered a recovery period, we still have a long way to go before we are back at what could be considered "normal".
Yes, we are seeing business profits starting to pick up and companies are starting to create new jobs in increasing numbers, but unemployment is still at historic highs and confidence levels are still low. Signs of a turnaround in the housing market are showing up in increasing house sales and rises in house prices in some regions, but foreclosures have not gone away.
What is going away is the stimulus money, which has been helping the states maintain programs that might have been cut because of reduced tax income. Now that the country is being forced to wean itself off of the ARRA life support system, we can expect to feel some more pain, even though the fundamentals continue to improve.
Getting back to the housing market, a recent article in the Washington Post (January 27, 2010) stated that with house prices down 30% from their highs in 2006, and probable further reduction in 2010 as another wave of foreclosures occurs, it could be a decade or more before many home owners regain equity in their homes. At the beginning of May this year, after making an average loss of 39% from its sales of properties that had ended up on its books, Freddie Mac had to look for additional funding from the government.
An article on cnn.com on May 9, 2010, spoke of the roughly $109 billion that U.S. states and localities have received since February 2009, when the American Recovery & Reinvestment Act was passed. That money has been used to support Medicaid and education services, among other things, but it is starting to run out and by 2012 is expected to be completely gone. While there are moves to provide additional funding, it is not likely to be on the same sort of level (if it occurs at all) so the states and other localities will have even bigger budgetary issues to face. If we didn't realize before, it is now clear that the European states are not the only ones with burgeoning debt problems.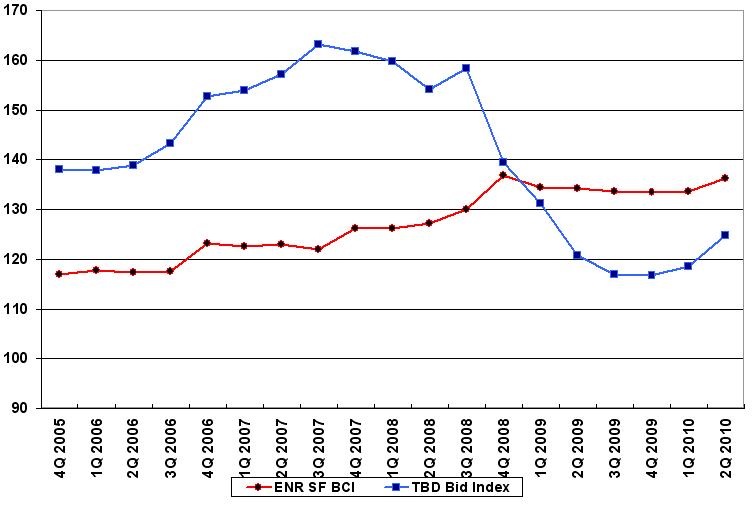 The stock market is seen as a leading indicator of the economy, and the construction industry is seen as a trailing indicator, so with the stock market making a slow rise at best (and at time of writing, taking a nose-dive) it shouldn't be surprising that there is not much to report in the way of recovery in the construction market. Our bid index appears to be showing an encouraging upward turn, but it is probably more reflective of some increases in material and labor, plus an acknowledgement that the cut-throat bidding we had been seeing (where contractors were effectively buying the job) was not sustainable.
Ongoing restrictive lending practices are a continuing problem for developers, and until a sustained recovery is seen to be occurring it is unlikely that businesses are going to want to make substantial investment in new infrastructure. When you add in to that the problems the states are facing with their finances, then the prediction (by the Construction Products Association) of a further decline of 2% in construction output for 2010 seems realistic. Their prediction for 2011 is a 0.8% increase, so we are not discussing any rapid improvement.
That said, as a recent Reed white paper points out, the fundamentals of the economy are steadily improving, though slowly, and growth in construction will inevitably follow, so now is the time to start preparing and positioning yourself for the upswing.