The latest addition to the NASA Ames campus is one that has spanned between two recessions and well illustrates the growth of the green building movement over that period. It started its life back in 2003 (as the country pulled out of the 2001 recession) as a fairly basic two-story office building that was planned to achieve LEED Silver. However, NASA budgets did not allow for the increasing prices in the construction market that soon followed, and the launch of this project was put on indefinite hold.
Countdown restarted at the end of 2007, as NASA's architects, DMJM (now part of AECOM), started looking at options for the office development, which by that time had added a conference facility (as a separate building in some options) with the location changed to a site where a wind tunnel building had just been demolished.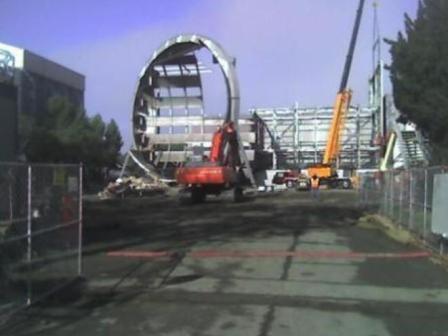 The LEED/green-building element of the design had grown in importance. What developed into a three-story office building design now incorporated geothermal ground source heat pump HVAC (with other HVAC options being evaluated, including using waste water from an adjacent facility), sunshading, PVs, and solar hot water.
But the bidding market at that time was pushing construction prices to record highs, and it looked as though the project would be put on hold again.
Instead it took a sideways leap. William McDonough & Partners were brought in as part of the design review process, and they suggested the idea of the "first moon base on earth". In essence, this was to make the sustainability element prominent, and get the building to be as close to meeting its energy needs as possible, with the aim of reducing operating costs and hopefully gaining additional upfront budget to allow the project to proceed.
A third site was selected, nearer the campus entry, making the building more prominent and improving access for the contractor. By May 2009 AECOM/DMJM had brought the design to bid stage, and groundbreaking for the development took place close to the 40th anniversary of the first moon landing at Tranquility Base.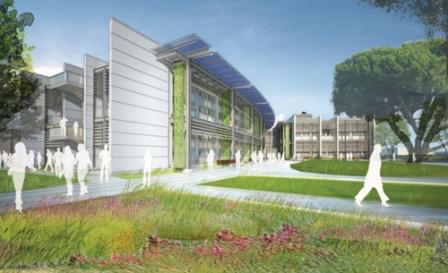 The timing of the bid period, which coincided with the Great Recession working its way through the construction market, certainly helped in the project meeting its budgetary goals.
What is now known as Sustainability Base incorporates rooftop PVs, Building Integrated PVs in conjunction with the exterior sunshading, blackwater treatment, light shelves, an HVAC system that uses geothermal buried loop and operable windows tied into the building management system, along with many other green-building features.
LEED Platinum is the target for the project.