Geoff's IT Gems
Vista Second Edition

The next version of Windows is on the way! The beta for Windows 7 is now available for testing, and we have been trying it out on a virtual machine. Windows 7 is not a completely new operating system, but is an upgraded version of Vista. One can say it is what Vista should have been. But in a number of ways it feels different to Vista. For instance, the Task Bar now has more the look and feel of the Mac's Dock, there are improvements in Windows Search capabilities, and of course it comes with Internet Explorer 8. Then there is the cute way the new pulsing Windows symbol forms itself from four spots of light.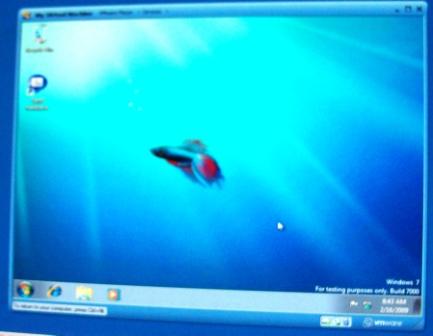 The new-look Task Bar combines the Quick Start function with the shortcuts to open applications, and hovering the mouse over an icon will give you a quick image of open windows for that application. It also contains an icon that gives you direct access to your desktop, which is where your gadgets now reside (the Sidebar having been relegated to history).
Windows 7 introduces the concept of Libraries where you can organize folders that you use regularly, such as Documents, Pictures, etc., even folders elsewhere on the network, so they can be accessed as easily as if they were on your hard drive.
UAC (User Account Control) - which brings up those messages asking if you really want to install that piece of software, so do something else that has some potential danger attached - is now more controllable, so you might get out of the habit of simple clicking the "Continue" button. You can change these settings via the Action Center, which is the replacement for the Windows Security Center.
For those of you that haven't acclimatized to the Ribbon on Office 2007, I'm sorry but it isn't going away – it even features now in the versions of Paint and WordPad that ship with Windows 7.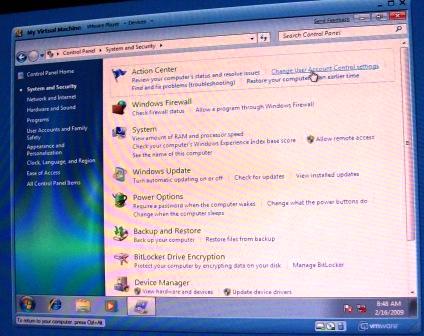 Underneath the new interface it is still the same kernel as Vista, but that shouldn't put people off. Vista got its bad name largely from problems with incompatible software and device drivers, but those problems have mainly been rectified now. The other big problem was that Microsoft had made an admirable effort to address security issues with Vista, but hadn't really given sufficient thought to how the implementation of that security would affect users. This time the security is still there, but it is less intrusive.
Many people had been giving Vista a miss, waiting for the follow-up, and it looks as if the wait was worth it. Actually the wait will last a few more months at least. No firm date has yet been announced for the official launch of Windows 7, but the end of this year is a possibility, with early 2010 probably more likely.